ISKON Temple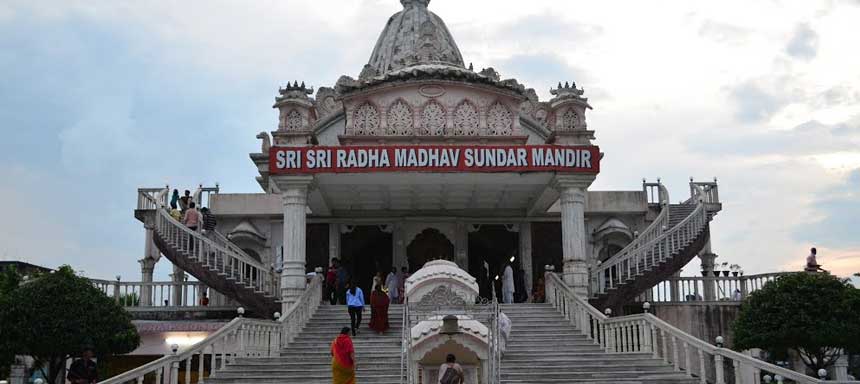 Built in 1998 by Hare-Rama Hare-Krishna cult followers amidst the well manicured garden of Siliguri is International Society for Krishna Consciousness, more popularly known as ISKCON Temple. Dedicated to Lord Krishna, ISKCON temple has become the prime attraction of Siliguri for the devotees and pilgrims. It is the biggest Krishna centre in the whole of the Northeast India.
Located on the ISKCON road of Siliguri, ISKCON Mandir is shrouded with an aura of tranquility and purity. The white washed building of ISKCON Mandir showcases a beautiful blend of modern architecture and ethnic tradition to its visitors. The green lawn and white marble flooring creates a biblical ambiance in ISKCON Mandir. The timing of ISKCON Mandir is from 4:30 am to 8:30 pm. Apart from being part of arati sessions visitors can partake in a boating session in the serene manmade lake of ISKCON Mandir or strike a pose in the chariot model situated on the vicinity of emerald green colored lake. The finely crafted walls of ISKCON Mandir are adorned by the paintings of Russian Artist depicting the different eras of Chaitanya Mahaprabhu, Radha Krishna, Ram, Laxman, Sita, and Hanuman. There is a guest house within the premises of ISKCON Mandir for the travelers who want to relish the serenity of this idyllic place.
Let your mind be lulled by the serene ambiance while your eyes feast on the sight of intriguing portrays and statues idolized within the grandiose structure of ISKCON Mandir.
Other places to visit in and around Siliguri