Salugara Monastery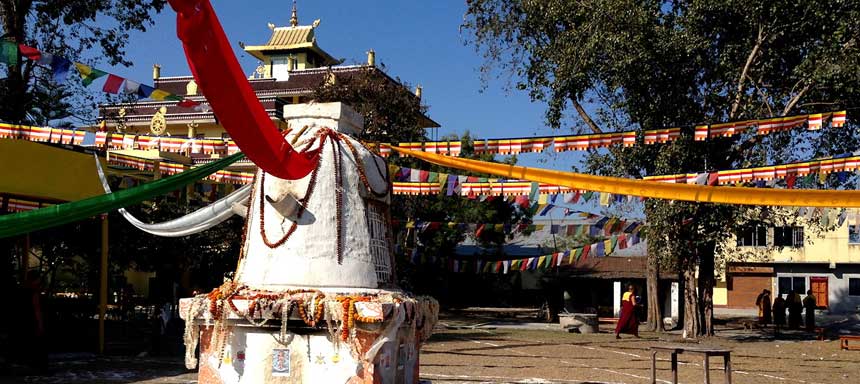 Located at a distance of 6km from the bustling city of Siliguri is Salugara Monastery. It is a Tibetan Monastery which is also known as The Great International Tashi Gomang Stupa. Salugara Monastery is situated near the army camp of Salugara. Built by the followers of His Holiness Dalai Lama, Salugara Monastery is maintained by the Droden Kunchab Chodey Buddhist Association. Sited on the roadside near auto stand of Salugara, travelers can easily visit Salugara Monastery.
Salugara Monastery is one of the most hallowed sites for Buddhist pilgrims traveling to Siliguri, the 100ft tall stupa being the prime attraction. Detailed with intriguing designs the stupa or chorten of Salugara Monastery was founded by the Tibetan Lama, Kalu Rinpoche. The stupa of Salugara Monastery is revered by the monks as it said to bring out five kinds of relics of Buddhism. The timing of visiting Salugara Monastery is from 5:30am to 6:30pm. Inside the premises of monastery is a giant prayer wheel near the small room where visitor can offer butter lamps. Engulfed in the cover of tranquil ambiance Salugara Monastery is an ideal place for meditation to rejuvenate the tired soul from the hassle of daily city life. Festive season are known to be the best time to visit Salugara Monastery to learn more about Tibetan culture and religion when devotees from around the city gather to pray and celebrate for a prosperous year.
Let your sense be soothed by the lingering aroma of Tibetan incense, which fills the nooks and corners of monastery, while taking a stroll and spinning prayer wheel around the iconic white washed stupa of Salugara Monastery.
Other places to visit in and around Siliguri